The Derby della Madonnina is a match which even through Calcio's dark periods, where Rodrigo Palacio and Philippe Mexes were doing battle, caught the attention of the world's media.
As the 188th league game between Inter and Milan drew to a close last weekend, there were a hell of a lot takes and conclusions to be drawn from the game. After a week, most of the hot takes have cooled down (Click HERE to find out if Mauro Icardi is the best striker in Europe!) (err, no, he isn't, fellas), but there's one that still remains. What the hell is going on with Leonardo Bonucci?
The former Bianconeri defender is a shell of his former self at Milan this season. His long balls are inaccurate, his tracking is non-existent and his words on social media simply aren't being backed up.
First off, I think we need to look at the wider issues and then magnify the smaller ones. The wider issue here is that Leonardo Bonucci is playing in a new team which still needs time to gel and a not so-good-coach.
Trying to separate a defender's actual ability and the defensive system they play in is one of the hardest things to do as a football viewer. Bonucci played under two great defensive coaches at Juventus, Antonio Conte and Massimilian Allegri where he rose to have a stake in the title of 'best defender in the world'.
Compare those two to Vincenzo Montella, who hasn't shown glimpses of being top, great or even good defensive coach in any of his previous jobs. At Fiorentina, he conceded 1.16 goals per game in the league, with a similar rate at Sampdoria with 1.11, and over the course of his Milan stint it's been 1.23 per game.
Is there a case for a lack of talent at these clubs? Sure. But to have a good defence it's more about coaching and a system, that's why it's easier for lower placed teams to go defensive than be attacking. It's quite telling that a Montella team has never posted great defensive numbers…or great offensive numbers, they're both always 'meh'.
Now to bring out the magnifying glass on Leonardo himself. There's been occasions this season that make you question whether this is actually just Daniele Bonera in a Bonucci mask. Mauro Icard's second goal in the derby was a microcosm of just how bad Milan have been defensively this season. As Icardi volleyed past Donnarumma to put Inter back into the lead, Bonucci and Biglia exchanged glances 'That was your guy!'
GOOOOOAAAAAAAALLLLL!!! WHAT A GOAL BY MAURO ICARDI!!! 2-1 #InterMilanpic.twitter.com/hguslHdZ5n

— Lega Serie A (@SerieAchannel) October 15, 2017
The lack of communication for that goal was seriously alarming. Bonucci moves to the front post to prevent Icardi getting in front of him and executing a near post finish and seems to think his nearby teammate Biglia is going to pick up his compatriot. Just from the video there's a thought that Bonucci could've thought Musacchio would be picking him up and Bonucci could prevent a near post run if Icardi shook him. No one picked him up. 2-1 Inter.
Bonucci isn't totally excused here, it's poor defending from him considering Icardi is Inter's main threat and he should be stuck to him like glue. But again, it's just poor communication. This is half a coaching issue and half of the fact a player of Bonucci's calibre should be taking command and organising his defence.
In Turin, the telepathic understanding between BBC ensured each player knew their roles and who was going to track who, but more importantly, it was coached into them.
The Derby was a microcosm of Milan's current defensive issues, this isn't just a Bonucci issue, by the way, this is a top to bottom issue. Football in its modern form has never been structured, more vigorously coached and rehearsed yet the current Milan seem to do most of their defending in free form.
Did Juventus' defensive system make Bonucci a better player, of course, which defender wouldn't improve there? Would Juventus accept a sub-par player just because he did well in their system? Absolutely not. He is evidently a top defender and has been for a staggering number of years.
The Italian was never the most astute defender in 1 v 1 situations, however his reading of the game and general defensive knowledge, such as knowing which players runs to track, more than covered up for his deficiencies.
The sudden back tracking on his status as one of the world's premier centre backs is ludicrous. At Juve, the understanding between BBC was astounding with last season being their sixth season playing together in the backline.
Mateo Musacchio, Bonucci and Alessio Romagnoli are all good defenders in their own right, there's absolutely no reason they can't become an incredible defensive trio in their own right if they're given time and a proper coach.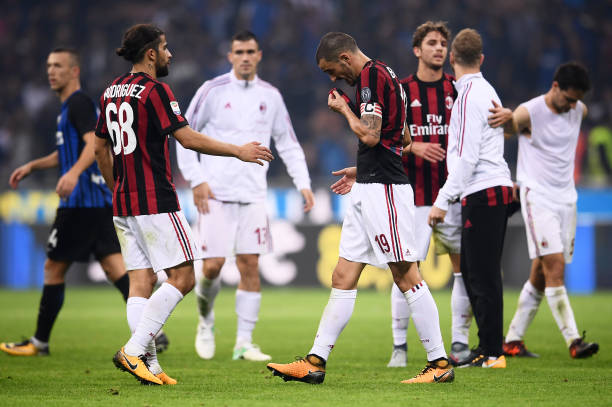 (MARCO BERTORELLO/AFP/Getty Images)
The transition to playing with two new defensive partners after playing with the same two for six season was always going to be rough. The issue is, after spending €200m, time was never going to be on Milan's side at the start of the window. It's even less on their side after their start to the season and Montella's seat becoming increasingly hotter.
So, what is the answer to the Leonardo Bonucci question?
The answer is that while Bonucci hasn't been his former self, I think you have to excuse the fact it was always going to be a big challenge to adapt to playing with this Milan backline. This is magnified by two things a) he's planned under a questionable coach in general but an especially questionable coach defensively and b) he was never great as a 1 v 1 defender.
Bonucci isn't a 'system' player, but his qualities are most definitely magnified by a system, as would most players. This is often considered for defensive players, more for midfield players such as Andrea Pirlo, but it's true. Someone like Giorgio Chiellini could slot in any defensive in the world, but surround provide Bonucci with an adequate backline and let them gel, and his ceiling his much higher. That's what Milan bought him for.
Where do Milan go from here? I don't think dropping Bonucci is a smart move. I think Milan's season can move forward if they focus on being a defensive team first and foremost, and then use that to develop an identity as a team and move forward from there.

Polls
Loading ...