With the transfer window closing fast Juventus are still in need of a few more pieces to complete another run in what could be Gigi Buffon's last season
If you ask any football club in the world, it's safe to say a domestic double would be considered a success. This is not the case in Torino Italy. Despite winning their 6th straight Scudetto title and their third Coppa Italia in a row the Bianconeri and their fans are far from satisfied. After a stellar campaign Juventus's season and offseason were defined by 45 minutes against Real Madrid.
We will never truly know what happened in the Juventus locker room at half time that night in Cardiff. Rumours of a locker room brawl aside Juventus were outclassed in every way by Real Madrid in the second half getting routed 4-1. This was the same team that had outclassed Barcelona and had only conceded 3 goals in 12 Champions League games before the final. Pundits worldwide were debating whether this was the greatest Juventus team of all time, and even if it was the best defense in the history of the game. It all came crashing down. Now, over the last few months Beppe Marotta and his management team have had to pick up the pieces and fill the gaps to push the Old Lady over the edge.
The acquisitions of Douglas Costa and Federico Bernardeschi were key. Wingers are an integral part of Max Allegri's 4-2-3-1 system and Juventus have added some serious talent. Both wingers can dribble, shoot, pass and can play on either side. Costa in particular will need to replace the offensive void on the right side left by Dani Alves. Keeping Allegri was a big win as he is regarded as one of the best coaches in the world. Unfortunately his poor relationship with Leonardo Bonucci led to his sale to rivals AC Milan for a bargain 42 million euros. The move stunned the football world. Not only did Juventus lose arguably the best centreback in the world but they strengthened their competition while weakening themselves. Losing out to Corentin Tolisso to Bayern Munich was also a tough pill to swallow as the young French midfielder was exactly what Juventus needed.
Juventus recently acquired Blaise Matuidi from PSG. The French international is a tireless runner, fantastic tackler with great aerial skills and can jump into offensive plays. Unfortunately for Juventus, despite being a great deal Matuidi is on the wrong side of 30 and was used more as a left midfielder his whole career. What Juventus really needed, and still needs, is a holding box-to-box midfielder to couple with Matuidi's "destroyer" playing style. Recent rumours suggest there may be a potential swap between Juventus and Roma: Cuadrado for Kevin Strootman. The Dutchman would be the perfect fit in the centre of the park for the Bianconeri. Despite his contributions to the club Juan Cuadrado is one dimensional and Juventus have a surplus of wingers once Marko Pjaca returns from injury in October.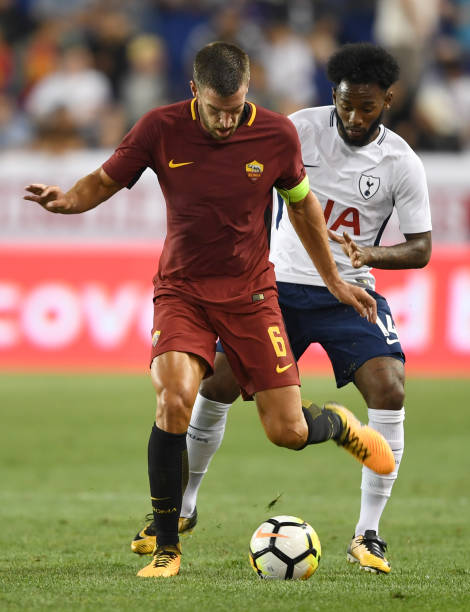 Other points of interest for Juventus in the last week and a half are at right back and centreback. Despite the acquisition of Mattia De Sciglio Juventus feel another fullback is necessary. De Sciglio is a solid player but it'll be extremely difficult to emulate the Champions League performances of Dani Alves last season. Leonardo Spinazzola, owned by Juventus had a terrific season last year on loan for Atalanta. Spinazzola is due back in Torino next season but the Bianconeri want to claim him back now in order to sell Kwadwo Asamoah to Galatasaray. Both teams are meeting this week to try and work out a deal. Despite the loss of Bonucci Juventus's defense is still impressive. Giorgio Chiellini is still solid but aging. Daniele Rugani is an insanely talented youngster who will fill the void of Bonucci. How quickly depends on how many games he gets. Andrea Barzagli and Mehdi Benatia have not convinced in pre-season. Rumoured Ezequiel Garay from Valencia would add depth to the position which is always a bonus but a centreback can wait until January.
All things considered Juventus have had a decent transfer season. With just over a week left there is plenty of time to add to an already stacked lineup. An already good midfield can be made even better, potentially treble-winning with the acquisition of Kevin Strootman. Acquiring Spinazzola and/or Garay would be bonuses, at the same time it would cement Juventus as a European powerhouse. Marotta will need to really earn his money this time around. Juventus and Gigi Buffon, in his last season, need to be given a fighting chance to finally win the big-eared trophy and fend off an intensely competitive field in Serie A. Only then can Juventus sit atop the table of European elites where they belong.

Polls
Loading ...