This past week, Toronto FC's superstar Sebastian Giovinco, who played the majority of his career for Juventus in Serie A, told MLSSoccer.com "(If Toronto were in Serie A) we would avoid relegation easily, maybe finishing mid-table." This is quite the claim. Ever since MLS was created, legitimate experts and arm chair pundits alike have scoffed at the quality of the football played in North America.
The question of "How would X team do in X country?" is a common one among football fans across the world. Every fan has their own opinion on which league is "better." Competitions like the UEFA Champions League, and Copa Libertadores have given us a better idea about this debate. The UEFA coefficient tracks the performance of clubs by country from all over Europe in a 5 year year period between the Champions and Europa Leagues. At the time of writing, this is the unofficial way to determine how strong a country's league is.
Based simply on the facts of longevity of the leagues themselves, European leagues have had 100+ years to develop whereas soccer in North America dates back to the 1970s (MLS began its inaugural season in 1996). There is an obvious discrepancy in talent however, is the gap really that big for the 2017 Toronto FC who are arguably the greatest team in MLS history? I'll take a look at Serie A specifically as the question posed to Giovinco was regarding Italy's top flight.
Serie A is one of the best leagues in the world, and at one time from the mid 1980s to early 2000s, was the undisputed best in the world. Over the last decade, the Italian top flight has regressed significantly, but has improved drastically over the last few years and is on the upswing.  There are 20 teams who play 38 games each plus Coppa Italia matches. Three teams are relegated to Serie B every year. Italy's top division is characterized by its focus on tactics and on staunch defending. Many players and coaches have said that Serie A is the toughest league to score in.  As a surprise to many, in the last two seasons Serie A has averaged the most goals per game in the top 5 European leagues, with 2.95 goals per game in 2016-17. So far in this early season, this trend hasn't seemed to slow down.
https://twitter.com/IFTVofficial/status/901911664001519616
TFC have played 33 of 34 games at the time of writing, averaging 2.18 goals per game, the most in the league. They have played the most technically sound style in MLS. TFC's style is characterized by quick, short passes through the pitch, recycling the ball when needed and using their wing-backs on both sides to create chances. This is a stark contrast to the rest of the league who primarily play long balls and – at times – resembles amateur football.  Jozy Altidore and Sebastian Giovinco have provided offence while Victor Vazquez has been pulling the strings in a regista role in midfield. Captain Michael Bradley has been the defensive stopper bossing the midfield – his nickname 'The General' has been very appropriate this season. Greg Vanney has done a masterful job of managing the bench as every TFC player on their roster has featured at some point this season. So, how would the Reds finish in Serie A, and would they avoid relegation and finish mid-table?
I've covered TFC for the last two seasons and have watched live games in Italy and the first difference that stood out to me was the speed of the game. Although TFC play a technical European style, they are much slower than even the bottom half of Serie A's table. Another disadvantage for the Reds would be depth. Outside of TFC's big 4, it's hard to imagine the rest of the roster being able to play at a level beyond the second division. I would exclude Nicolas Hasler who has played in Switzerland and Chris Mavinga. The Frenchman has played the majority of his career in Ligue 1 in France and wouldn't look too out of place in Serie A.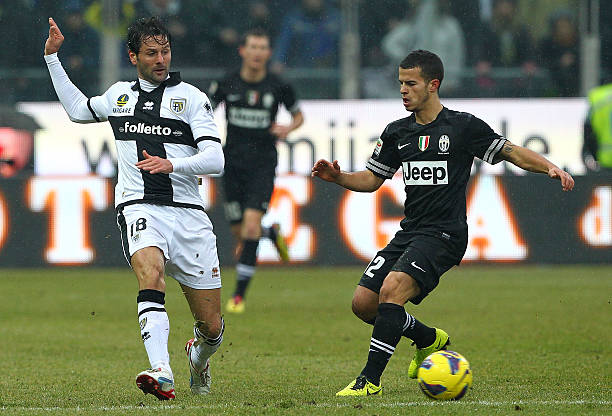 Other factors to consider are travel, and stadiums. In MLS, teams have to travel thousands of miles through four time zones across the continent. TFC this season had to play a home game midweek only to be flown all the way out to California for a tilt against the LA Galaxy four days later. Long travel adds to the fatigue and, with Italy being a small peninsula, would better prepare the players. This rest would compensate for a longer season. It'd be interesting to see how the extra 4 games in Serie A would impact Toronto. It would definitely test their already thin depth.
Finally, field conditions are overall better in Serie A. BMO Field has the luxury of a grass field and so are most MLS fields, however, six stadiums still have field turf which causes players to be more injury prone. The atmosphere itself would also be a factor. With all due respect to MLS supporters clubs, the hostility towards away clubs in Italy is unparalleled. It isn't as bad as it used to be though, as flares and dangerous objects have been banned since 2007. The intimidating atmosphere which most MLS players aren't used to could prove too much as it has in Central America and Mexico. This is part of the reason why no MLS team has won the CONCACAF Champions League.
The Reds' big four would make the difference in avoiding relegation. Giovinco has featured in big games in the Champions League off the bench against Real Madrid and Chelsea, in addition to having a breakout year with Parma in 2011-12, scoring 15 goals. Altidore played in the Premier League, La Liga and in Holland without much success, but nonetheless, that experience is vital. Vazquez grew up in the Barcelona academy and was MVP of the Belgian league in 2014-15. Bradley plied his trade in Serie A with Chievo and Roma and was a solid player who could get the job done; by no means was he a star though. The combination of these players, in my opinion, would be the key.
Greg Vanney is a great coach, but would he be able to make adjustments to compensate for the lack of speed? Italy is known for having the best coaches in the world, they always have. It would be a challenge for TFC's staff to go up against seasoned European coaches. Serie A's academies and player development are weak compared to La Liga and the Bundesliga, but are light years ahead of MLS allowing for better depth.
In conclusion, based on this season's results and the rosters, and style of play of Italy's top flight clubs I predict Toronto FC, if healthy, would finish 15th in the table.
 I stress health because if one of TFC's big guns is injured long term, the team would be fighting against relegation – something that doesn't exist in MLS.  I agree with Giovinco's claim in avoiding relegation, but there is no way they finish mid table. Beating the likes of Benevento and Verona is one thing, but the Reds simply don't have enough to beat the likes of Sampdoria and Torino consistently. Their star power alone would be enough to provide a challenge in the league and would be fascinating to watch.
If it were possible, Toronto FC would be a welcome addition to the world of Calcio.
Polls
Loading ...